Not long ago the idea of hosting a virtual pet adoption event, an entirely contactless, paperless, in-person-less experience was not even a consideration. It seemed as though the process demanded a face-to-face experience from pet selection, to meet and greet, to filling out the application, to the approval and walking out the doors of the shelter, it just seemed that in-person was the only way. Enter the new normal. Virtual everything. Including pet adoptions.
Since being forced to pivot on a dime back in March, we have been exposed to a trove of new learnings. And what we have found has been both inspirational and exciting. Pet adoptions are not only happening virtually, but they are happening seamlessly, and very successfully.
The virtual nature of pet adoption events opens your shelter up to an entirely new audience likely rife with potential adopters. Platforms such as Zoom, Go-To-Meeting, even FB and IG live are no longer ways of connecting with others socially, but are being embraced as ways to bring your shelter and available pets in front of your audience where they are.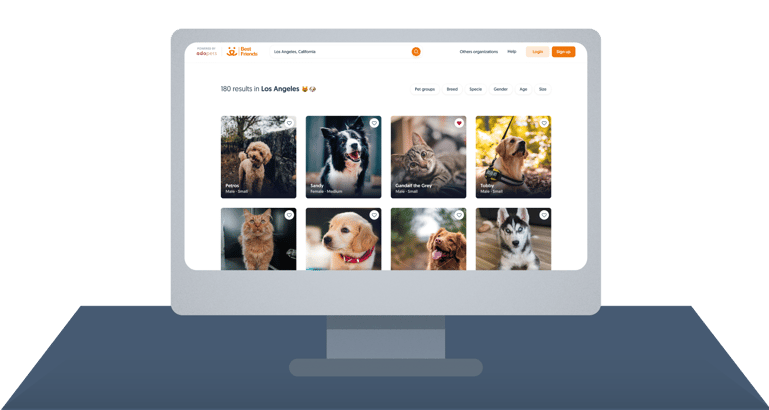 A virtual event affords you the opportunity to stand before your larger audience and accomplish your overall goal of getting your pets adopted into loving homes. If you're considering a Virtual Adoption Event check out these 7 tips to ensure your event is a hit:
Be prepared: Plan your goals and strategies for your virtual adoption event just as you would your live adoption event, be sure your technology is ready, test it pre-event. Be sure your volunteers are available online and understand how you are going to streamline the process, from first inquiry to last pet leaving the shelter
Promotion: Getting the word out is critical to the success of your event, just as it is in an in-person. Put your followers on notice, announce your event on all social media platforms and engage them. Use fantastic images of your adoptable pups (

Photog Tips

), and make sure all your promotional materials are shareable.
Engage a partner: Leverage your place in the community and ask the event partners you would normally invite to in-person events, to spread the word about your Virtual event. Create excitement through partner awareness.
Be technologically capable: Put your tech to the test. Do a dry run to a small audience prior to the launch of the real thing. Technology can certainly be unpredictable, but proper preparation can prevent tech disasters.
Be responsive: Virtual events are replacing in-person events which people really enjoy. Traditional adoption events were an opportunity for potential adopters and adopters to see, touch, feel adoptable pets and talk face to face with volunteers who have first hand knowledge of the pets, though the screen can separate, it can also break a barrier. Find the connection behind the screen. Thank viewers for coming, welcome them as they join when possible, and be prompt with responses. Try to replicate the connection of the experience as best as possible.
Pick the right date/time: Be sure there are no competing events, that you've selected a high traffic time, and be sure to pre-check your analytics to choose a period when your audience is available.
Be content rich: If you are hosting either a live or static event, it is important you have images and content that compels your audience. Live feeds where you can are great ways to bring your audience live updates, and make them feel part of the event. If static is your approach, be active on your social platforms and provide followers a look into how your event is going. The more they know the more included they feel and the more likely they will be to take action, from inquiry, to donation to adoption.
Though the Virtual Pet Adoption Event was created out of necessity, will likely be part of shelter playbooks for a long time to come. Reaching larger audiences, collecting more donations, and adopting more pets in an efficient, seamless way is here to stay.
If you like this, please share it!