Foster mom, Sarah Donner, documented the growth of one of her many foster babies to show the amazing journey of fostering. She used her social media to post photos and videos of her foster kitten from birth up to the day of her adoption. Meet Tiddlywinks!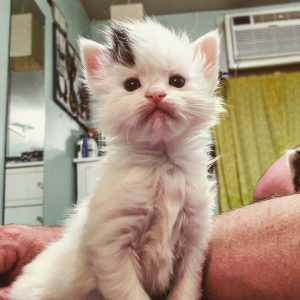 Tiddlywinks entered Donner's foster home when she was a newborn. She was one of the three babies that was found in an attic in New Jersey with their feral mom. "I have to thank Tiddlywink's momma for being a champ," Donner told Love Meow.
Donner began recording daily footage of her holding Tiddlywinks, who she says was the star of the litter. "She was the boss of her brothers Hungry Hippo and Meeple. She was the first to walk, the first to use the litter box..."
Sarah says that she was able to watch her fosters grow and form bonds, especially with one of Sarah's "foster fails", Melon.
Sarah says it brings her so much joy to tell the the story of Tiddlywinks and her happy ending of finding a forever home. "This is why I foster, and this is why you should adopt."
Watch the full time-lapse video of Tiddlywinks here:
Visit Love Meow for more amazing stories like this one.