There's no doubt that all pets are special, but service pets are even more so. After years of training, they are able to detect when their human is in stress to get help. The emotional and physical support that owners get from their service pet is nothing short of life saving. Along with this responsibility comes an amazing bond that is formed into a life-long friendship. These owners were able to capture the bonds they've built with their service dogs in an effort to show the importance of their pets.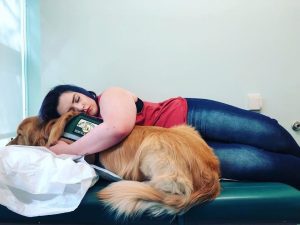 "This is my service dog, Troy-Bilt, a 3-year-old golden retriever from New Horizons Service Dogs in DeLand, Florida. His presence alone is a huge relief during some of the scariest moments of my health. When doctors give negative reports, I always have a bright and shining face to turn to. He is my forever paw-tner." —Phoebe Marti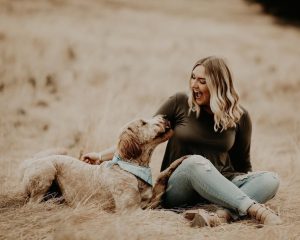 "My service dog, Tasmania, has brought so much light into my life, changing everything for me. He has taken the dark days and filled them with color, and the bright ones, he's brought love and laughter. Before he became my partner in crime, I struggled daily to be able to complete simple, everyday tasks that any 20-something-year-old should be able to do without a bump in the road. I couldn't go out without constantly worrying about the 'what if' of life that would creep up on me and consume my day in the blink of an eye. Tasmania has given me my freedom back and has allowed me to live again, like a 21-year-old should do. He's taken away the fear that comes with leaving the secure bubble of my bed and has shown me that I can take on the world as long as he is by my side. With Tasmania, I am safe, I am strong and I can achieve anything." —Lizzeth Mendoza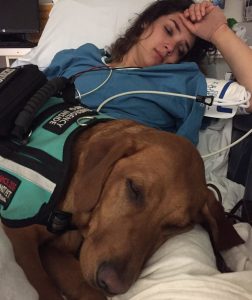 "With Kern, my service dog, I am able to accomplish things on my own without constantly relying on another human. It makes me feel so relieved that I don't have to put this pressure on all of my relationships; I don't feel like a burden anymore. The amount of friends I have gained from having Kern is incredible; his personality and capabilities are so intriguing to people. I love how he has given us a voice in the service dog and disabled community. We're happy to be advocates. I would not be able to pursue the life I want and deserve without Kern. He's my gateway to accomplishing every goal I have." —Kendall Shelby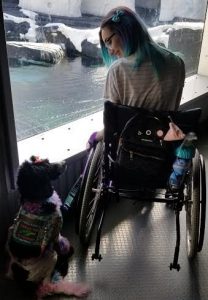 "Aurora is being trained in medical alert and response for my tachycardia issues, hyper-mobility disorder and mental health disabilities. She has alerted me many times before I pass out, which gives me some extra time to find a safe place to lay down. I was going through major depression due to my health problems, and once Aurora entered my life, it feels like she's given me purpose again; although I'm in pain, she shows me I can feel." —Ashrae Dewitt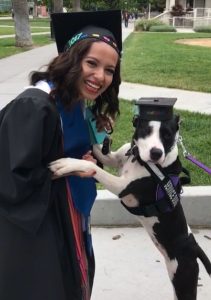 "I've been hard of hearing my whole life. Iris is the first pit bull I've ever owned and she has helped me in many ways. She's able to let me know if there's something going on outside of my house and inform me, and detect high-pitched sounds that I could not hear at all with my hearing aids. I am so grateful for Iris and her duties. I feel safe going places with her and being at home as well. Iris has shown kindness and love as well as loyalty and commitment to her duties when she's working." —Edith Barrientos
Have a service pet and want to share your story? Email us at contact@adopets.org!