TAKE A HIKE!
You've been looking for a hiking companion for a while and now you've adopted a furry friend that will follow you anywhere. Here are a few things you need to know before you and your pup set out on the ultimate adventure.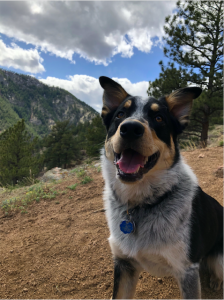 Check-up: You'll want to make sure that you visit your vet to get your dog caught up on shots. Do a full check to understand the health and limits of your dog. Make sure that the collar or microchip has the right contact information in case he/she gets lost.
Know the trails: Your dog may not be in as great of shape as you are...so know the difficulty level of the hike and make sure your dog can do it. If you don't want to be carrying your dog for half of the hike, work up to steeper and longer distances while building your dog's endurance!
Training: In order to have an enjoyable hike, train your dog. It will make an off leash hike much easier if your dog complies with your calls and actually comes back.
Regulations: Know the regulations of the trails and follow them. Practice good etiquette when you pass other hikers and pets. It makes the experience for everyone more enjoyable.
Prepare, prepare, prepare!
Once you have done your research and your dog has had its run down, it is time to prepare and start packing for the both of you!
Tents:
If your hike includes camping, buy a tent big enough for the both of you. Unless you're looking for a cuddle buddy, a two person tent will give you enough room for you, your dog, and your gear.
Buy a dogpack ! They're great for storing treats, a leash, and other goodies. But, don't weigh it down too much and even the load on both sides as best as you can.

Booties! Buy some for both hot and cold temperatures. If your feet can't handle it, your dog's paws can't either. Have your dog practice walking around in them before trying them on a hike.
Don't forget to bring a water dish! The travel, collapsible ones work great for hiking and camping. There are other water bottle options as well!
Pack plenty of food and of course some TREATS! Every dog is a good dog and deserves a treat.
Brrr: If you're hiking during the colder seasons and you have a dog with a short coat, buy one for them!
First Aid: Add some extra supplies to your first aid kit for your pup for those scrapes and bumps they may get while ruffing it up with you on the trails.
LNT: Always practice the leave no trace principles, even with your dog. Pack some extra doggy bags into their backpack! Even if you have biodegradable poop bags, you still shouldn't leave it on the trails.
While on the trails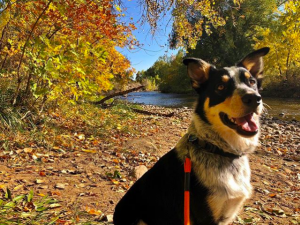 Breaks: Know the signs of dehydration and exhaustion - excessive panting, drooling, stumbling, or disorientation. Take plenty of breaks for water and a snack to let your dog catch their breath. If you're hot or dehydrated, then your dog is too!
Standing Water and Plants: Don't let your dog drink from standing water or eat unknown plants. Standing water harbors bacteria and parasites that are harmful and potentially fatal to your dog.